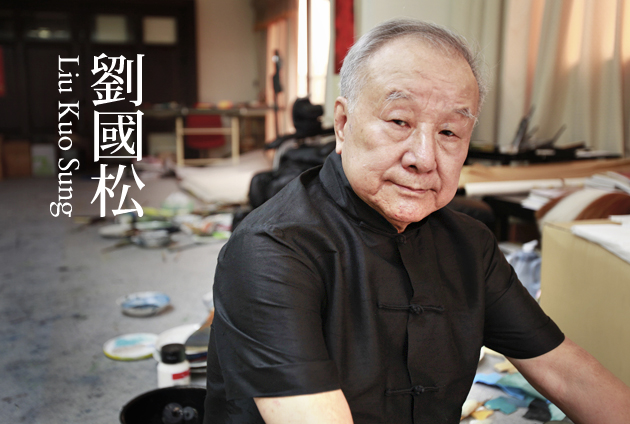 Photography / Cooper Chen
Liu Kuo-sung was born in Anhui, though he traces his ancestry to Qingzhou, Shandong. He settled in Taiwan in 1949. Through the years since then he has served as the Dean of the Faculty of Arts at Chinese University of Hong Kong, visiting professor at the University of Iowa and University of Wisconsin, and Dean of the Graduate Institute of Plastic Arts at Tainan National University of the Arts. In addition, many major universities and art schools in mainland China have named him an honorary professor. He is currently a chair professor at National Taiwan Normal University (NTNU).Liu Kuo-sung began studying traditional Chinese painting in Wuchang at the age of 14, and at 20 he switched to the study of Western painting. In 1956, immediately after graduating from the Dept. of Fine Arts at NTNU, he founded the Fifth Moon Group, which launched the contemporary art movement in Taiwan and advocated full westernization of art. However, five years later he sensed that following and imitating exclusively Western contemporary art trends and styles was wrong, and he felt a powerful calling to promote and develop traditional culture. He began promoting "the modernization of Chinese painting" and raised a fresh new proposal—that "imitating the new cannot replace imitating the old; copying from Western art cannot replace copying from Chinese art." Contemporary ink painting, which had started in Taiwan in 1961 and become fashionable by 1963, soon influenced ink painters in other countries in the East Asian Confucian cultural sphere.

In early 1983, Liu Kuo-sung accepted an invitation from the China Artist Association and China Central Academy of Fine Arts to lecture at China Central Academy of Fine Arts in Beijing, and at the same time he had a solo exhibition at The National Art Museum of China. Afterward the exhibition went on a three-year tour of 18 major cities in China. During this time, Liu lectured and taught in many different locales, promoting greater diversification in traditional literati painting, which had once tended toward uniformity. In the Sixth National Fine Arts Exhibition in 1985, he won Special Awards. In 2007, the Palace Museum, Beijing broke with its tradition of showing only works by traditional masters when it held a special exhibition entitled "The Universe in the Mind: Master Liu Kuo-Sung Paintings 60 Years Retrospective Exhibition." This not only confirmed his important historical status but also proved that modern ink painting had entered the mainstream of Chinese fine art. Liu Kuo-sung received the two most prestigious arts awards on the two sides of the Taiwan Strait—the National Award for Arts in Taiwan (2008), the Award for Lifetime Achievement in China (2011) and for National Cultural in Taiwan (2017). He is the first Chinese painter awarded a foreign honorary membership from the American Academy of Arts and Sciences (2016); he also becomes the first Chinese painter to receive the honorary membership of the China Federation of Literary and Art Circles. Since 1965, he has had nearly 100 solo exhibitions, more than half of which have been at the invitation of museums. More than seventy museums, including the Palace Museum, Beijing and the British Museum, have collected his works. Eleven volumes of scholarly work on him have been published in Chinese, English, and German, and six textbooks in use in American and British universities cite his theories or include illustrations of his works. He has been called both "the father of modern Chinese ink painting." and "a pioneer in Chinese modern painting".